The leading cause of death for Americans under 50.
Overdose Free America uses the power of celebrity and entertainment to bring the opioid crisis the visibility and support it deserves.
The opioid crisis is one of the greatest public health care crisis of our time. It has taken the lives of hundreds of thousands Americans at a cost of over $1 trillion. Yet not enough is being done to address it.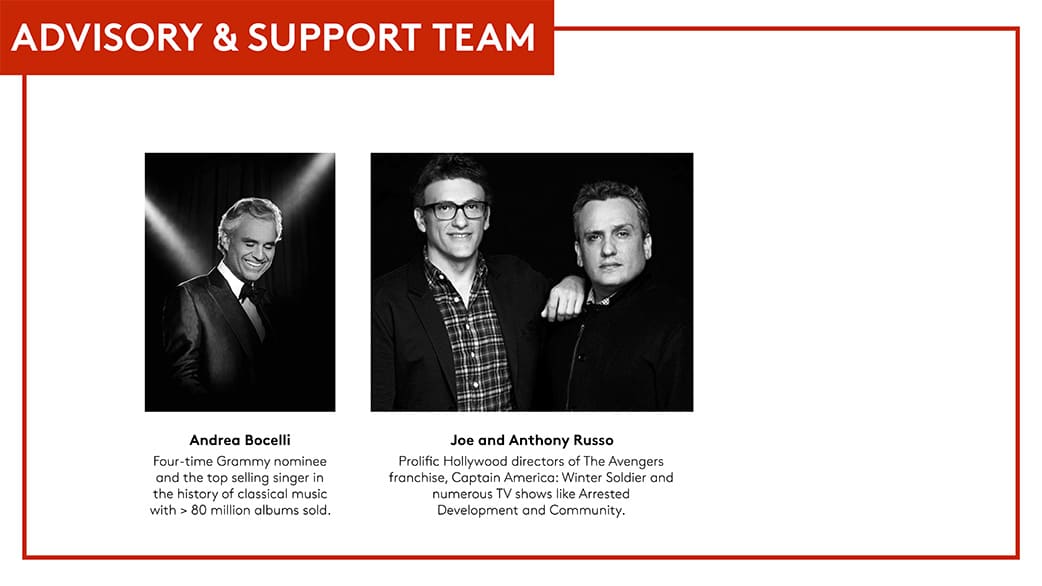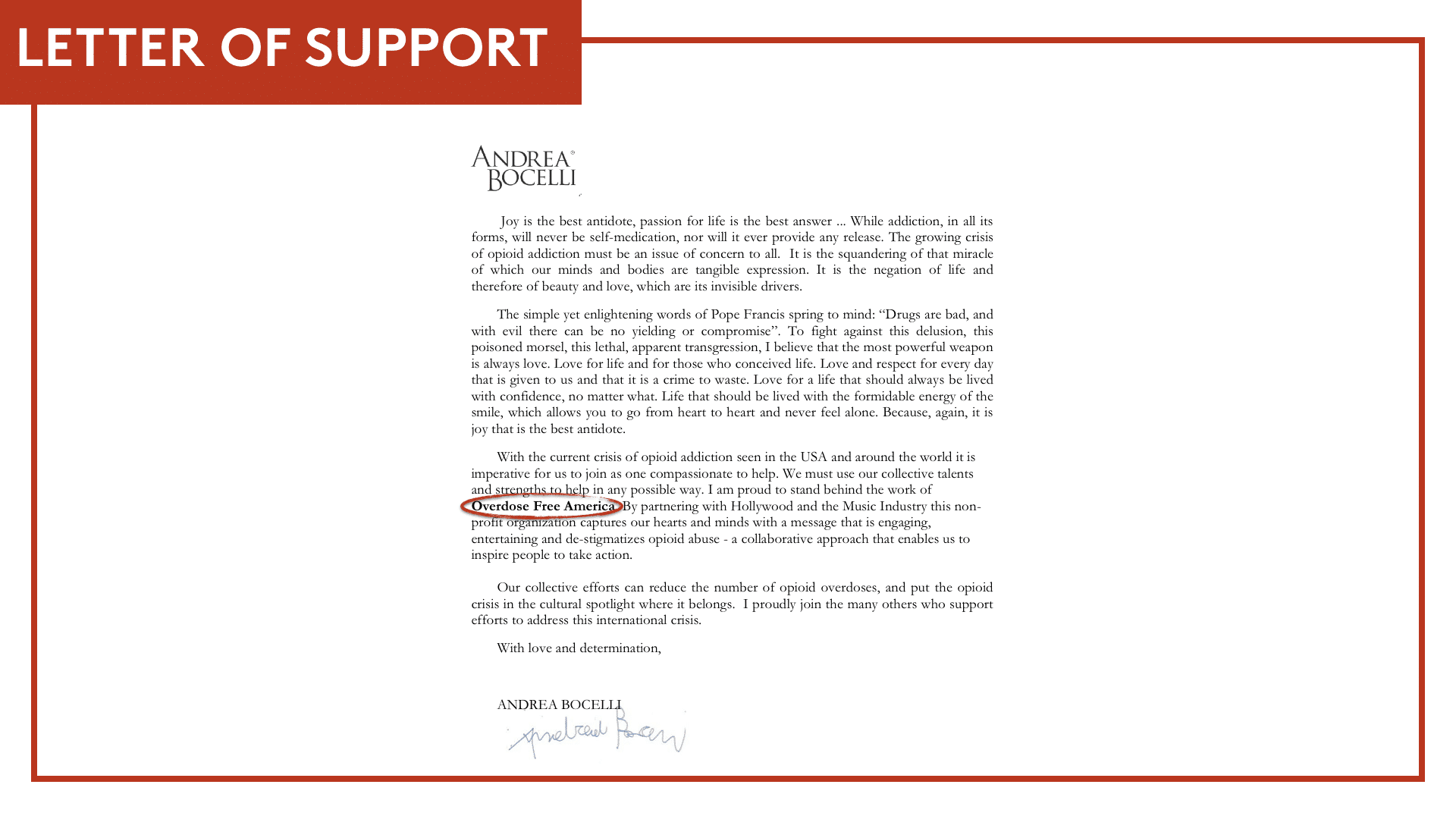 We believe the opioid crisis has not captured the nation's consciousness to the same degree as past public health crises like HIV/AIDS and Gun Violence. People are aware of the opioid crisis due to regional and state-level initiatives, and though much of this content is excellent, too often it has failed to breakthrough or destigmatize opioid abuse. Leading to a lack of visibility and support.
Dr. John P. Rosa
Dr. John Rosa owns/manages Accessible Beltway Clinics, which is comprised of 17 clinics in Maryland and Virginia that sees over 60,000 patient visits per year. ABC Clinics combine medicine, chiropractic, physical therapy, acupuncture and behavioral medicine to give a comprehensive multidisciplinary approach to pain syndromes and musculoskeletal disorders as well as advising on lifestyle changes for overall health. Active in sports medicine with consulting/treating athletes in several universities, NBA, MLB, NFL and USA Olympic Basketball. Creator of 24/7 RnR an FDA approved analgesic cream; a proprietary blend of the most potent materials resulting in the most effective product on the market for pain Relief and aiding Recovery. Founder of Accessible Wellness Solutions – an onsite corporate wellness program offering consulting, lectures and management of onsite clinics.
Education:  
New York Chiropractic College – DC 1992
Rutgers University – BS 1989
Leader in Chiropractic:  
Dr. Rosa served as a Trustee of New York Chiropractic College for 15 years serving final 3-year term as Chairman and named NYCC Trustee Emeritus after completing his service. Dr. Rosa was awarded the highest recognitions in his profession in Fellow of the American Chiropractic Colleges and Fellow of the International Chiropractic Colleges.
Integrative Medicine Specialist:
Maryland University of Integrative Health current Board Vice Chair
Consultant on Integrative Medicine to hospital cancer center
Reduced opioid prescriptions by 70% by integrating Chiropractic, physical therapy and behavioral medicine in a primary care setting
Expert/Speaker – Educating medical community on the Integrative Medicine approach to treating pain
Opioid Crisis National Expert:
White House Surrogate
US government/law enforcement Consultant (Homeland Security, CBP, DOJ, DEA and Postal)
State and National Consultant to Opioid Task Forces
Corporate and professional organization consultant
Co-Author with Jack Canfield (Chicken Soup for the Soul) "The Recipe for SUCCESS"
Community Leadership:
Founder of "Overdose Free America" a nonprofit which uses the power of celebrity and entertainment to bring the Opioid Crisis the visibility and support it deserves.
Intimately involved in an orphanage started by his father in Bellona, Italy just outside of Naples. Dr. Rosa has held many positions on the Board of Directors of this nonprofit serving as Executive Director, Chief Fund Development Officer and Vice President.
Member of National Italian American Foundation (NIAF) for over 15 years; serving on its Board of Directors for 8 years. NIAF is a non-profit organization dedicated to preserving the heritage of an estimated 25 million Americans of Italian descent, the nation's fifth largest ethnic group. NIAF funds scholarships and grants; supports a variety of youth programs, researches Italian American history and culture; promotes a positive image of Italian Americans; encourages the teaching of Italian language in U.S. schools; and promotes closer economic, political and cultural ties with Italy. Founded in 1975, NIAF is a non-partisan foundation. Dr. Rosa has held Chair positions of several committees and served on board leadership for several years.
Served on the advisory board for Clemson University Italian Language Program for several years. This advisory board was instrumental in fund raising for a Chair of the Italian Program.
Volunteer and supporter of Crossroads Freedom Center which is a 1-2 year residential facility in Ijamsville, MD to help men overcome addiction with treatment, financial management skills, job skill training, bible study and mentorship.
Rosa was Knighted into the Sacred Military Constantinian Order of Saint George in 2017. The order dates back to the Emperor Constantine and is considered one of the most ancient among the Orders of Knighthood and is dedicated to the propagation of faith and service to humanity.
 Professional Affiliations and Certifications include:                                   
American Chiropractic Association
Biomechanical Trauma Certification
Maryland Chiropractic Association
FACC
FICC
Awards:
Best Selling Author Quilly Award
Public Speaking Expy Award
Websites:
overdosefreeamerica.org
247RnR.com
MARY JANE RICHARDSON RN, BSN
Mary Jane Richardson offers an extensive background based on advanced formal training, relevant certification, and over 15 years progressive experience in the Nursing Profession demonstrating superior leadership initiative, technical/clinical expertise, customer/patient relations creativity, and consistent performance success.
She is highly skilled in assessing, planning, implementing and providing ongoing evaluation of the care of patients from admission through transfer or discharge. Proven experience in providing total care of medical-surgical, gastroenterology, internal medicine, pre and post operative care, cardiology, pediatrics, women's health, short stay and outpatient surgery, oncology, orthopedics, neurological, and generally debilitated patients in acute, chronic rehabilitation and critical care scenarios.
Mary Jane possess exceptional skills in interpersonal communications, team leadership and development, quality assurance, service integrity monitoring, policy & procedure writing, ethics and compliance, coaching/ precepting, and employer representation. She is also proficient in the use of current digital communications, remote office, and networked computer technologies, EMR.
Core Competencies:  
Full-scope Medical/Surgical Patient Care
Intubation / IV Starts & Therapy
Anesthesia / Medication Administration
Injections / Immunizations / Sample Draws
Geriatric Care / Hospice / End of Life
Post Surgical – Rehabilitative Care
Phlebotomy / Sample Collection
Electronic Monitoring / EKG
Physician Assistance / Skilled Nursing
Patient Preparation / Education / Counseling
Triage / Emergency Response / Code
Charting / Records Administration
Assessments / Admissions / Discharge
Compassionate Care Provider
Physician & Surgical Assistance
Trained & Seasoned Ambulatory Preceptor
Charge Nurse / Unit Supervision / QC
Continuous Quality Improvement
Production Control & QA/QC
Customer Service / Public Relations
Regulatory Compliance
Proven Experience in Business Management
Scheduling / Manpower-Asset Loading
Turnaround / Change Management
Education & Certification:
ADELPHI UNIVERSITY – Garden City, New York
Bachelor of Science in Nursing (1988) Magna Cum Laude
Registered Nurse in the State of New York, 1988-Present
CPR-AED Provider
Completed thousands of hours of Professional Development and CEU Training to Sustain RN Licensure
Experience:
IPRO (May 2019- Present) - 1979 Marcus Avenue Lake Success, New York 11042-1107
Registered Nurse Reviewer: Severe Sepsis/Septic Shock, Opioid Medication Prescription Review
Review and extract pertinent patient data from EMR drawing on decades of a diverse and advanced level of hospital and outpatient clinical experience.
Apply clinical data to criteria patients in accordance with New York State Department of Heath guidelines for Sepsis Protocol, Substance Abuse.
Prepare concise detailed reports in an organized format in compliance with NYS Department of Health various protocols validating case findings.
Consult with Physicians/ Department Director on individual cases regarding patient clinical data.
Review EMR for insurance claim denials and appeals using Microsoft Word prepare a detailed summary reports by applying patient's clinical facts and findings based off of the individual appeal claim.
DR. EVAN SCHWARZWALD, DO – Franklin Square, New York
Cardiovascular Disease (Cardiology) Specialist and Vascular Surgeon
Clinical Staff RN /(per diem) (2014-Present)
Employed on a per diem basis with an extremely high level cardiology practice.
Provide full-scope assistance with clinical procedures, patient processing, patient assessment with extensive history and physicals, and assistance with clinical procedures.
Establish appointments, process and coach patients, prepare exam rooms and operatories, prepare and start IVs, draw blood and collect samples, conduct exams, assess and brief physician on patient condition, dispense medications, review and update patient EMR.
DESERT SUN CLINICAL RESEARCH, LLC – Tucson, Arizona
Private practice based research firm providing clinical trials for gastroenterology, liver disease, internal medicine and women's health
Recruitment Coordinator/Nurse Reveiwer (2012-2015, Remote Work)
Reviewed a high volume of electronic medical records using the Borge eClinical Works system. Assessed and determined eligibility of patients for participation in clinical trials for research projects in gastroenterology, internal medicine and women's health disciplines.
Drew on decades of experience in clinical nursing within a variety of healthcare disciplines to select candidates by reviewing and extracting patient data against stringent sets of trial based criteria, interface with staff physicians and make appropriate recommendations.
Contacted selectees to determine interest, discuss benefits of participation in studies, review current medical condition, ascertain validity for selection, and schedule appointments using the RealTime Clinical Trial Management System
YUNIS, ROBERTS, BARRAU, PC – New Hyde Park, New York
GI Clinical Nurse (1998-2007)
Nine years experience in charge of a multi-specialty medical practice.
Monitored and ensured integrity of all patient services, reception & scheduling, document/data administration, supplies inventory, equipment maintenance, regulatory compliance, licensing/insurance, scheduling and execution of surgical procedures / physician assistance, medication/sedation management, and subcontractor services. Hired and trained new staff.
Gained in-depth experience in Gastroenterology (GI) nursing, working closely with two staff specialists.
Utilized critical care and surgical assistant nursing skills to supplement clinical staff as needed.
LONG ISLAND JEWISH MEDICAL CENTER – New Hyde Park, New York
Clinical RN / (1988-2003)
Accomplished 15 years progressive nursing experience at an 827-bed teaching hospital serving the greater New York metropolitan area
Provided advanced critical care nursing on diverse telemetry, cardiac CCU, internal medicine, surgery, Endoscopy, ICU, EDU. Rapidly advanced into Leadership and Preceptor roles, supervising, coaching and guiding subordinate nurses in advanced bedside, patient monitoring/care, and surgical assisting techniques and methodologies.
Demonstrated broad clinical diversities and experience. Regularly assigned by the Director of Nursing to all units throughout the hospital based on acuity, patient censes and staffing needs.
Participated as a member on committees and leadership assessment teams, providing critical input in a range of enterprise level continuous quality/service improvement initiatives.
Additional Experience:
GREEN CACTUS GRILL, INC. – Centerport, New York
Executive Vice President & Chief Financial Officer / Partner / Entrepreneur (2000-Present)
Fulfill diverse executive management roles as a managing partner of a chain of Mexican eateries generating $10 million in annual revenues and employing over 100 cross-functional personnel.
Delivered in excess of 18 years proven success in the highly competitive fast food industry.
Provide full scope fiscal oversight and control of all operations utilizing the QuickBooks software line.
Orchestrated all facets of the process to enable franchising of the Green Cactus Grill brand.
Researched, negotiated and secured the purchase/lease of seven new locations to include contractor solicitation for all buildouts, purchasing of fixtures and equipment, initial staffing and training, and the grand opening process.
Develop floor plans, marketing materials, menu items, recipes, image enhancements/signage, seasonal themes, promotional, multi-media advertising campaigns,
Solicit, negotiate and secure annual contracts for food and condiment supply including global sources.
Administer property and liability insurance contracts priced at over $500 thousand annually.
Provide on-site leadership of unit operations. Hire and train new staff, develop schedules, administer payroll, conduct audits and inspections, survey customers, and generally ensure the integrity of storefront performance.
Demonstrates exceptional organizational/time management skills in rapid paced environment. Outstanding ability to trouble shoot and execute resolutions in a timely manner.
Demonstrates excellent interpersonal skills and works well in team-based environment.
Angelo L. Falcone, MD, FAAP, FACEP
Seasoned senior clinical and business leader in the emergency medicine and acute care space. Successfully delivered results in increasingly complex organizations in career using a collaborative leadership approach focused on high patient quality and delivering business results. Throughout career have progressively managed a small team of providers at a single site to supporting over 800 clinicians and support staff at 60 sites of service in a multistate region.
Professional History:
President East and Mountain Region US Acute Care Solutions 2018-present
Regional President supporting largest component of company with 2 million annual visits at 60 sites of service distributed over a 7-state region. P&L responsible for $300 Million in annual revenue (30% of company) accounting for nearly half of adjusted EBITDA for enterprise. Major initiatives included integration of prior legacy groups into an operating region, negotiating major system level contracts and accounting for largest growth rate of any region in the company.
President East Region US Acute Care Solutions 2017-2018
Regional President supporting 29 sites of service and responsible for over one million patient encounters and 500 employees. P&L responsibility for $150 Million in annual revenue, 25% of company, accounting for 35% of adjusted EBITDA for enterprise. Focus was building a regional leadership team from legacy companies, driving performance and continuing to account for largest amount of growth for company.
President Mid-Atlantic Region US Acute Care Solutions 2016-2017
Transitioned legacy group as founding partner of US Acute Care Solutions (USACS). Managed through cultural transition of legacy partnership model achieving company high Net Promoter Score (NPS) by colleagues in our legacy organization after transitioning to USACS.
Chief Executive Officer, MEP Health 2006-2015
Led company over 10-year period from 2 sites of service emergency medicine group to multi state practice in Northeast with 3 service lines; emergency medicine, observation and post-acute care. Grew employee base from 30 to 300. Success came through structured strategic planning and leadership development process while leading executive team. During 10-year period grew practice from single site of service with $10 million in annual revenue to $80 million with 17% margin.
Led successful merger with US Acute Care Solutions as founding partner realizing significant value to current shareholders.
President Medical Emergency Professionals (MEP) 2004-2005
Oversaw transition from single site emergency medicine group to initial expansion. Developed growth and marketing strategy to expand in local market. Successfully pitched and won first expansion to St. Mary's Hospital in Leonardtown, Maryland.
Medical Director Shady Grove Adventist Hospital 1997-2004
Operational Medical Director taking average community hospital emergency department to benchmark status and overseeing volume growth from 56,000 to 86,000 patients per year. Expanded Pediatric Emergency Department to 24-hour service line treating 20,000 pediatric emergency department patients annually.
Pediatric Emergency Medical Director 1996-1997
Shady Grove Adventist Hospital
Developed and established new Pediatric Emergency Department. Recruited and hired 4 full time Pediatric Emergency Physicians. Oversaw nurse education and expanded service from 8 to 12 hours daily.
Board Membership:
US Acute Care Solutions Board of Directors 2016-Present
Named as one of six original board members overseeing strategic plan and priorities for 2000 clinicians and 500 support staff. Assist in business development and reaching out to new potential partners / M&A targets. Currently a $1B enterprise serving 6 million patients in 22 states at 220 sites of service. Work closely with private equity partner to ensure ongoing success of enterprise.
MEP Health Board of Directors 2005-2015
CEO and managing member of leadership team during period of expansion from single site to multi-site, multiple service line in emergency medicine and associated services.
ACEP NEMPAC Board of Directors 2011-2014
Oversaw efforts of ACEP's National Emergency Medicine Political Action Committee (NEMPAC) while yearly contributions grew to over $1million per year making NEMPAC the third largest medical specialty PAC.
Medical Licensure:
Maryland Medical License
Certification:
Board Certified in Emergency Medicine
Board Certified in Pediatric Emergency Medicine
Education:
Pediatric Emergency Medicine Fellowship 1994-1995
Fairfax Hospital, Falls Church, Virginia
Emergency Medicine Residency 1991-1994
Georgetown/George Washington Medical Centers
Washington, DC
Internal Medicine Internship 1990-1991
Washington Hospital Center
Washington, DC
Doctorate of Medicine 1986-1990
Georgetown University
Washington, DC
Bachelor of Science Biology 1982-1986
University of Scranton
Scranton, PA
Personal:
Married with 5 children. Leisure time is spent traveling to see my children play sports as well as visiting grandchildren. Enjoy most outdoor activities including participating in triathlons and hiking.
By partnering with national, state and local government, not-for-profits and professional organizations, Overdose Free America seeks to capture America's hearts and minds with content that's engaging, entertaining and destigmatizes opioid abuse. A collaborative approach that enables us to inspire people to take action.
Overdose Free America will not only measurably reduce the number of opioid overdoses, but put the opioid crisis in the cultural spotlight where it belongs.
Make a difference.
Save Lives.